Metal Slug for Megadrive / Sega Genesis / Atari STE
A downloadable game for Windows
The impossible can be made...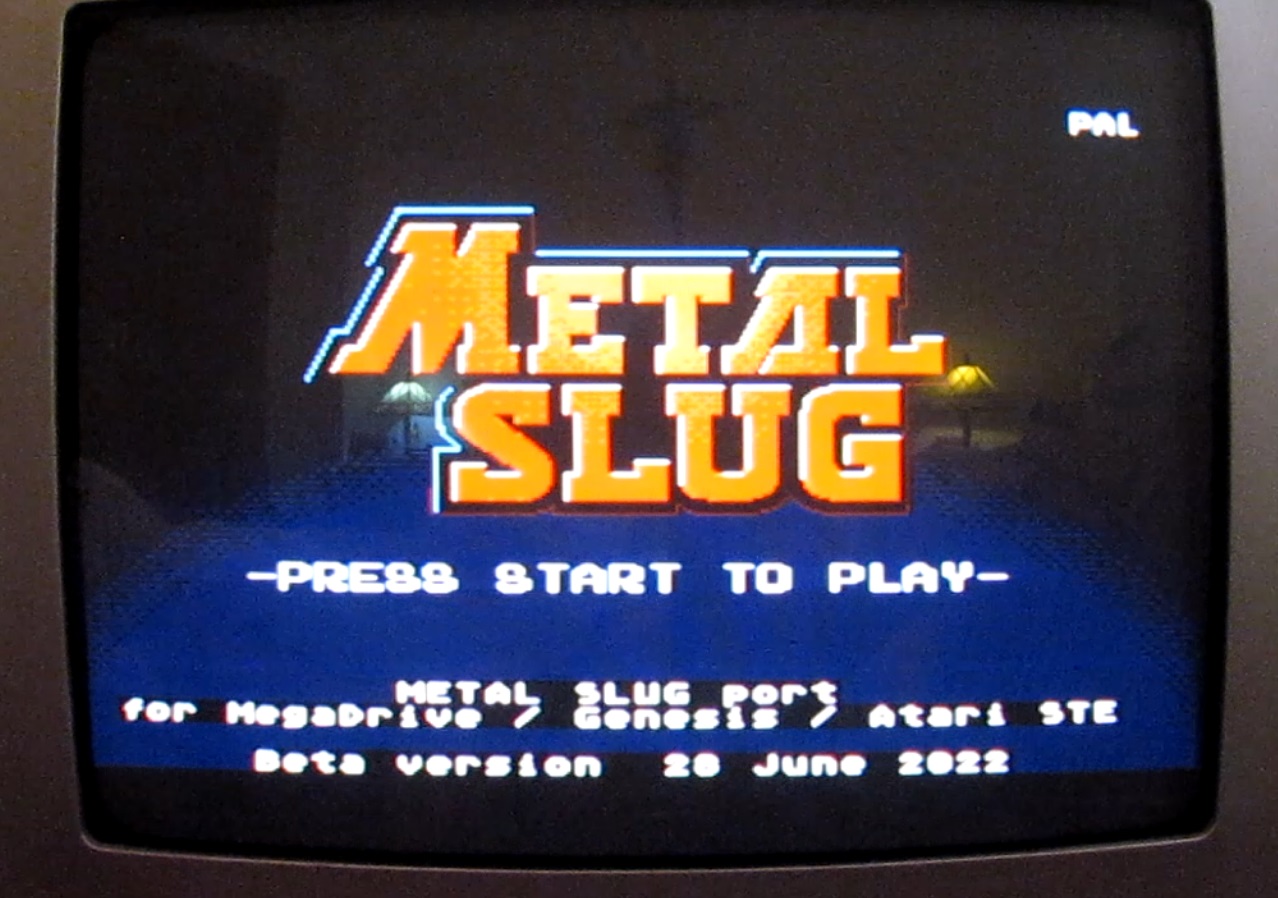 A good quality Metal Slug port for Atari STE computer, and Megadrive / Genesis as well. Running at 50 frames per second.

Atari STE version makes usage of custom sprite routines, extremely efficient but memory hungry ones. And a 3 voices digital audio mixer.
Megadrive/Genesis is a completely different nightmare, while STE computer has 4 MB of RAM, the 16 bits console only has 64 KB of video RAM (around 52 KB available for scenario and sprites), that needs to allocate a 320x208 framebuffer, in order to display almost the same high detailed scenarios as NeoGeo version, and the incredible huge amount of sprites at same time... without collapse... this console version is one of the most challenging things I never performed.
The 16 bits console audio driver was written by SplinterGU, that provides 3 compressed digital audio voices. Digital audio needs to be compressed in order to maintain a ROM size less than 8 MB.
The project, that is planned as a new Metal Slug adventure with 6 levels, could be completed thanks to donations.
Imagine the thousands of hours dedicated to the creation of the game engine and graphics/ sound adaptation.
If all works well, a physical release is planned, for both systems: Megadrive / Genesis as a 8 MB cartridge, and Atari STE as a SD card.

DreamCast version of the engine is under study.

Note: original graphics and sounds are property of their respective owners.
How to play - MEGADRIVE / GENESIS

The same ROM is compatible with PAL & NTSC systems.
Simply put the ROM in your console or emulator and play it.
As a recommendation, a low brightness and medium to slightly high colour saturation is recommended for a visualization like provided screenshots.
How to play - ATARI STE

Atari STE version can be played in an emulator (use STEEM with Vsync activated in order to display all real-time mixed colours; Hatari emulator is not recommended, STEEM does a great job with its Vsync capabilities). 4 MB RAM is required, that is the maximum a stock STE can equip.

Keyboard controls are: W,A,S,D and B,N,M
As well custom 3 button gamepad can be used in Atari STE:
A hard disk unit is recommended, there is a high performance low cost unit available for Atari STE, available for purchase:
Thanks for your interest, attention and donation!
Download
Click download now to get access to the following files:
Atari STE version - For STEEM emulator or real hardware
1 MB
Megadrive / Genesis ROM version - Beta 28-6-2022
1 MB